If you're looking at Vancouver homes for sale and you're ready to take the plunge, there are a few things you should know. Whether you're coming from the next town over or another country, it's a great idea to familiarize yourself with the area and get a plan together for the big move. From planning your work commute from your new digs to considering what areas may fit your needs best, there's a lot to think about. So, isn't it time you get started?
Transit
If you're already from the Vancouver area, you know that this city has great public transit options. When deciding on a home, consider how easy it will be for you to get to work. Many individuals and families choose to save money by having one car, or no car, since the buses and trains here are incredibly reliable. Make sure you pick up a Compass Card if you'll be taking advantage of public transit. It will save you money!
There are also many safe walking or biking paths you can use to navigate the city. Consider how this can impact (or improve) your commute to work or your weekly errands when choosing a home.
Parking
If you're moving into an apartment or condo right downtown, keep in mind that Vancouver is still a big city. Make a plan or work with a moving company to make sure you're not stuck without parking as you unload your moving truck. You can reserve a metered spot by getting a temporary special zone permit.
If you're looking to move to an apartment or home without parking or with only one spot, you may want to apply for a parking permit, or even invest in a few for any visitors you may have.
Weather
Canada gets a bad reputation for being cold in the winter, but average temps in the city don't actually go too low. The one thing to look out for is the rain. While autumn sounds like a great time to move – not too hot, not too cold – this can be an especially rainy time in Vancouver, and no one wants to trudge through mud and puddles with heavy furniture. Instead, try to plan your move for late spring or early summer. May and June have great temperatures, around 17-20 °C. Plus, you'll have the entire summer to walk around and get to know your new neighborhood!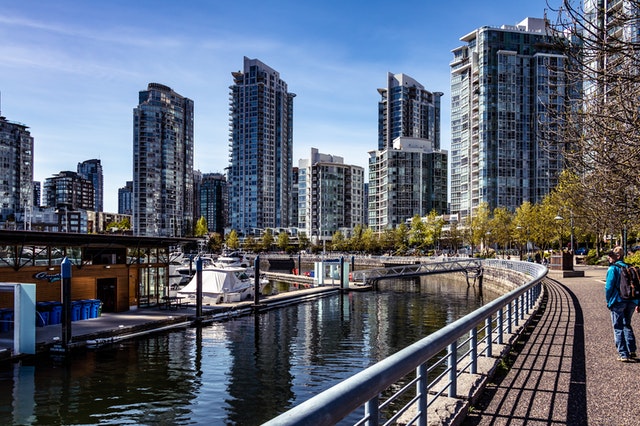 Neighborhoods
Speaking of neighborhoods, there are many to choose from depending on the needs of you and your family. If you're interested in the hustle and bustle of city life and want easy access to shopping and nightlife, Downtown Vancouver will be the best place for you. Looking to raise a family in a more suburban area? If you're looking for an earthy, outdoorsy lifestyle that specializes in healthy food and ample yoga studios, check out Kitsilano. There is definitely a Vancouver neighborhood that suits your needs.
Immigration
If you're coming to Vancouver from another country, you have a whole lot of steps to think about. Be sure you gather all essential documents and forms of identification, such as passports and immigration documents, and keep it safe on your journey. It can be complicated to apply for work and residence visas in Canada, but it'll be worth all the effort. Vancouver is truly an amazing, diverse city that has a little something for everyone.