Are you looking for some quick and easy ways to brighten up your living room this summer? Or perhaps you have visitors coming to stay and you want to freshen up the guest room with some bright summery shades? Perhaps your own bedroom needs a little makeover to shake off the winter blues and add some liveliness to welcome in the warmer months of summer? How to ward off those cold, dark days in a way that is quick and affordable?
Well, the good news is that there are some very cost effective ways to do this which will transform a room in no time and without breaking your budget either. You can start by rearranging the furniture; relocating a favourite chair to take advantage of the breeze and the sunlight from a window; and moving other furniture to create more space between each item. This can instantly make the room feel more airy and spacious. Even repositioning some of your lamps from low tables and corners to a higher shelf or stand can make the room feel lighter and brighter.
You can change floor rugs and throw rugs, replacing deeper tones and heavier fabrics with lighter colours and natural textures. Try some crisp green and aqua tones or soft pinks with whites and creams for a fresh, clean, contemporary look. Or choose classic black and white with some bright oranges and reds or yellows if you prefer to make a bolder statement.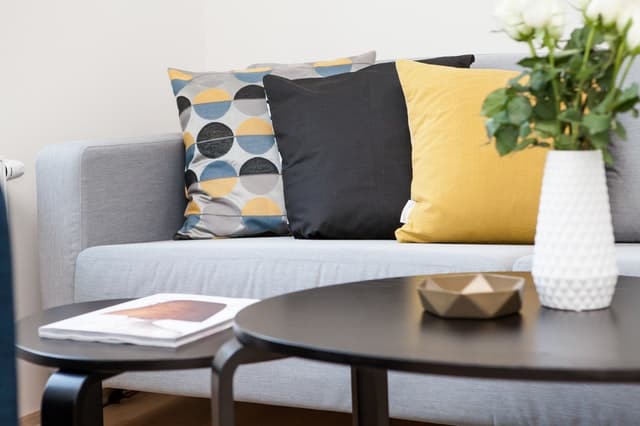 Many of us choose our sofas and chairs and our bed coverings to be in more neutral colours so that they won't date as quickly. This gives us a whole lot of options for making over a room by simply changing your throw rugs and adding a few well chosen cushions. And your old sofa or bedcover look new and fresh each time.
Cushions are one of the easiest ways to add some lovely bright colours to any room. You can add or replace the cushions on the sofa or bed and don't forget that special reading chair! There are so many fabric designs and textures you will be spoilt for choice! You can add textured styles with woven or cabled patterned fabric decorated with buttons – these look great in natural tones and whites.
Or if your preference is for classic lines and simple styles you might prefer your cushions to be more colourful like these 'Scandi' designs. These cushion covers look great when you mix and match with plain colours and don't forget to do the same with the shapes and sizes. Not only will it look more interesting; it's more practical too – you and your guests can plump up with the larger ones or get a little extra support with a smaller rectangular cushion. Any way you look at it, cushions are a wonderful, affordable means of transforming your favourite room and bring some sunshine and light to your home.
So this coming summer season, do not worry about blowing your budget because it can be as easy as purchasing some cushions that can easily take the stress out of a fresh new season's makeover!